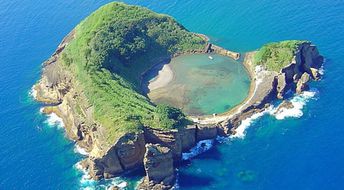 10 Best beaches in Azores islands
Ultimate guide 2018

Vila Franca
is an unusual beach in the crater of an old volcano, located on a tiny islet near the
Sao Miguel island
, Azores. The water is shallow with a stony bottom. There is also a small sandy area good for smaller children. So in a contrast to most of Atlantic, the water is warm, and there are no waves. The islet has toilet room and lifeguards.
/ read more » /
Find hotels in Vila Franca

Moinhos
is a beach near
Porto Formoso
in the north of
Sao Miguel
island, Azores. This was the best secret beach of the island, but after the renovation it became a little more crowdy. However, it is still a great place to sunbathe, to swim and to eat at the delicious bar. There is a shower and a toilet, - everything is in a good condition.
/ read more » /

Praia das Milicias
(Praia Grande) is the largest and the most popular beach of
Sao Miguel
island in the Azores. The sand is slightly dark and gives a very pleasant feeling. The waves are usually strong, but there is shallow water ashore being comfortable even for the smaller children.
/ read more » /

Prainha
is a beach in a large town of
Angra do Heroismo
in the south of
Terceira island
. The sand is almost white, that can be rarely met in the Azores, as well as sea water is calm without waves. There is a fortress wall around the beach, as well as pretty old town can be seen in the background.
/ read more » /

Lombo Gordo
is a wild beach down the mountain in the east of
Sao Miguel island
on the Azores. The artificial sandy coast sometimes migrates to the left or to the right, but most of time remains between the breakwaters. In the afternoon, there is a shadow ashore, so nobody here that time. Due to the poor transport accessibility, there are not many people anyway.
/ read more » /

Porto Martins
is a city beach in the east of
Terceira island
, Azores. There is a small sandy area, as well as concrete fields with comfortable entry into the water. Due to the good location in an enclosed lagoon, there are never strong waves.
/ read more » /

Quatro Ribeiras
is a rocky beach in the north of
Terceira
island, Azores. There are many trails around, as well as areas where you can sunbathe and swim in the ocean. There is also full sized pool with sea water, as well as a shower and toilet room.
/ read more » /

Mosteiros
is a popular black sand beach in the west of
Sao Miguel
island, Azores. In a calm weather, this is a great place to swim. But when the waves are strong, you can move to a rocky site, where the cliffs protect the coast from waves.
/ read more » /

Biscoitos
is the best beach in the island of
Terceira
, Azores. In reality, this is not a beach, but a series of natural pools in a stoned lava. Last years, significant coastal areas have been made up of a concrete. It became a little more convenient, but the beach lost its charm, and now it looks like Montenegro shore. In addition, it is slipperly on the wet concrete. There are lifeguards and a shower on the beach.
/ read more » /

Negrito
is a Blue Flag bathing area in the south of
Terceira
island, Azores. In fact, these are two pools with sea water. In a storm, waves get into the bathing area, so it is not always calm water unlike the real pools. There is a historical fort nearby, - however, it is not very beautiful.
/ read more » /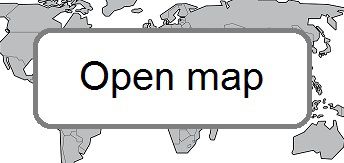 ✍
Feel free to ask any questions
& get free help from our travel community.
Any reviews or ideas are also appreciated:
Comments
[
2017-05-08
]
Fantastic beaches at Vila Franca
[
2016-05-15
]
Yeah! Sorry, but Azores really has no good beaches. Continental Portugal is much better for beaches.