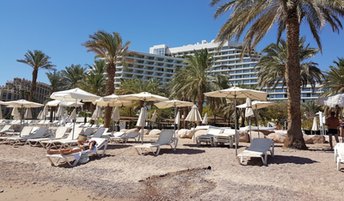 9 Best beaches in Eilat
Ultimate guide (January 2019)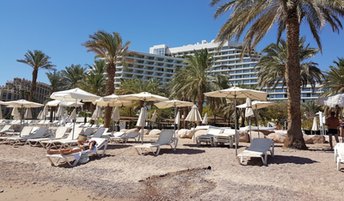 Dolphin Reef
is a beach club (US$19 per person) with dolphins in the southern suburbs of Eilat, Israel. This is exact the place with that fr…
/ read more » / Mosh's Beach
is the main rastaman beach of Eilat in Israel. This is a great relaxed spot with pleasant music (mostly reggae) and a lot of sh…
/ read more » / Hahashmal
is the nearest beach to the south of Eilat, located in a walking distance from the residential area. It has no many trees, but …
/ read more » / Rimonim
is the west city beach of Eilat, Israel. Entry into the water is slightly uncomfortable because of pebbles, and there are alway…
/ read more » / Underwater Observatory
is a beach in the south of Eilat, Israel. The coastline is pretty nice, and there is even a promenade with palms. However, most…
/ read more » / Migdalor
is the best wild beach of Eilat, Israel (aka "Lighthouse beach"). However, it has sunbeds rental (umbrellas are free of charge)…
/ read more » / Princess Beach
is the southernmost beach of Eilat - right next to the Egyptian Taba. This place is for snorkeling only, as the beach itself is…
/ read more » / Snuba
is one of the southern beaches of Eilat in Israel. In fact, this is not a beach, but just a rocky coast along the road. Surroun…
/ read more » / ✍
Feel free to ask any questions
& get free help from our travel community.
Any reviews or ideas are also appreciated:
Comments
[
2017-10-25
]
1. Timna Park (mountains & canyons) is a must. This is a little to the north from Eilat.
2. Red Canyon. This is quite similiar to great National Park in the USA, but I can't remember its name.
3. Adventure
park
- in the Shoret industrial area.
4. Dead Sea, but it's far from Eilat (more than 200 km).
[
2017-10-25
]
What are the most interesting attracions to see, when you are in Eilat? Thank you.
[
2015-04-08
]
Yes, it is possible. Cross border will total cost $60. For Petra and canyons I'd recommend 3 hours. If you'll take package tour from Israel, it may cost $250
[
2015-04-08
]
Eilat - Petra - Eilat in a day. Is it possible?