Chapter 3. How to fly cheap?
Usually flights are the most expensive costs in your journey. Now I'll give you advices on how to buy cheap flights, and how to make your flight more comfortable and more safe.
If you know date of your vacation, do the next steps:
1. Open search flights aggregators:
2. Select departure city and arrival city, date and number of persons. Click "Search".
3. Choose a flight and pay for it by the credit card.
4. Print e-ticket to show it in the airport. However, last time it is often no need to print e-ticket.
5. Register online 24 hours before departure, choose seat and print boarding pass.
It's not very difficult, but I'd like to explain some details.
Before you pay, check what airline operates the flight, and what is the type of a plane. The most popular planes are:
- Boeing 737, 757, Airbus A319, A320, A321
(Medium-haul flights. 3 seats on the left and 3 seats on the right.)
- Boeing 767, 777, 787, Airbus A330, A340
(Long-haul flights. From 7 to 10 seats in a row.)
- Boeing 747, Airbus A380
(Huge 2 levels aircrafts)
However the most interesting for us is the age of the aircraft. Suppose you want to buy a ticket on Ryanair airlines flight. In this case, type in google.com :
Ryanair average fleet age
Most likely one of the top sites will be airfleets.net, and I highly recommend it. So we can see:
Ryanair
Fleet age 6.7 years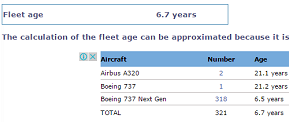 Perfect! The airline flies on new planes!
I recommend the following criteria to evaluate fleet age:
1. Less than 10 years old
The new aircrafts. Feel free to fly.
2. 10-20 years
Fleet is rather old. You may fly only if it's extremely necessary.
3. More than 20 years
Old trash. Don't fly it in any circumstances.
Now I'll tell you about the ways to buy tickets cheaper. First try to split the route into segments, and search for the ticket for each separate segment. For example, if you are looking for tickets from London to Cook Islands, flight search will give you extremely expensive price. But tickets from London to New Zealand are usually inexpensive. And tickets from New Zealand to Cook Islands are always cheap. In sum, these two tickets may cost 5 times cheaper than same route on a single ticket! However, in this case all risks associated with possible delay of flights fall on you. For example, if the flight from London to New Zealand will be late, you may miss your next flight from New Zealand to the Cook Islands. To avoid it, just choose longer connection time between flights in New Zealand. You will be able to see the country and guaranteed to be in time to your next flight.
By the way, connection time significantly affects the comfort of your journey:
1. Less than 1 hour
Very convenient, but there is a great chance to miss the next flight.
2. From 1 to 4 hours
Comfortable connection time. You will have enough time to relax a bit before the next flight.
3. From 4 to 12 hours
Extremely uncomfortable connection time. You'll have to wait a lot at the airport while waiting for the next flight.
4. More than 12 hours
Again, very convenient connection time. You may see the city attractions or spend a night at the hotel.
Most likely that you have already significantly reduced the cost of flights. If it's still too expensive, then you have to change the date of travel. Usually tickets are more expensive when everyone wants to fly. These are weekends and holidays, as well as school holidays, championships, etc. Try to avoid peak dates, and you'll get a great bargain.
You may also significantly reduce cost of flights, if you are free to choose any date of your travel. For example, skyscanner.net / momondo.com may show the cheapest tickets during the given month and even throughout the year:
London - New Zealand: The cheapest flights throughout the year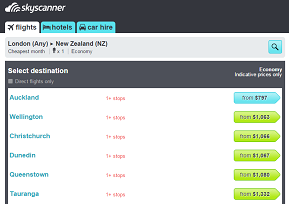 London - Auckland: The cheapest flights throughout the month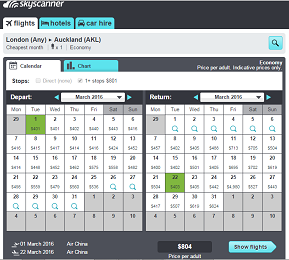 London - Auckland: The cheapest flight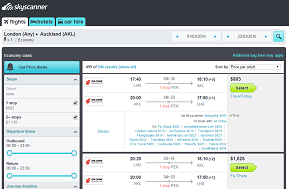 Somehow I found supercheap ticket from London to New Zealand departing in 10 months! I immediately bought it and planned my vacation at the respective date. This is the most effective way to minimize the cost of air flights. Plan the date of your vacation according the cheapest tickets! Just don't forget about the weather seasons (see Chapter 2).
Some other useful recommendations:
1. Sometimes (but very rarely) two separate tickets (single ticket per way & single ticket per way back) may be cheaper than a round-trip flight purchased on a single ticket. You may also try to choose different cities of arrival / departure. For example, you may fly from London to Rome and fly back from Milan to London.
2. Sometimes (rarely again) open-jaw ticket (see example below) may be cheaper than simple round-trip flight. Etihad Airways often do like that. For example, Minsk - Bangkok - Munich flight is often cheaper than Minsk - Bangkok - Minsk.
3. Try to search flights not only to where you need, but also to the neighboring cities / countries. For example, if you need to get to Singapore, then also check cost of flight to Bangkok. It often may be cheaper to buy a ticket to Bangkok and another ticket from Bangkok to Singapore. Even if you'll spend some money in Bangkok for taxi and hotel.
4. Check for airlines sales. Information about the actual sales can be found at travel forums.
5. Try to fly low-cost airlines! The earlier you buy, - the cheaper price. Regions best covered by lowcosters are Europe (www.ryanair.com, www.easyjet.com) and South-East Asia / Australia (www.airasia.com, www.tigerair.com, www.jetstar.com). There's also good coverage in North America (www.jetblue.com). Unfortunately, in most cases low-cost airlines give low price only for small and medium distances. Most low-cost airlines even don't fly long distances.
6. Earn miles. Main alliances (www.oneworld.com, www.skyteam.com & www.staralliance.com) have loyalty programs for frequent flying passengers. As for me, all these games with miles make sense only to spend these miles for the flight in a business class, which usually is very expensive if you buy it for the money. But it's not much different from the ticket in economy class, if you take it for miles. And another tip. Don't get carried away too much with these miles. Don't ignore cheap and comfortable flight just because you won't get much miles for it.
And one last tip. If you want to fly to the opposite point on the Earth, it makes sence to pay a little extra for the round the world ticket. In this case, you will fly approximately the same time, but you'll see much more. In most cases, it is better to take round the world ticket in a specialized agency (for example www.travelnation.co.uk in the UK). The second option is to buy several one way flights. Strange, but this is often the cheapest option.