Chapter 2. When to go?
So you know where to go. Now you have to understand when you should go there, and when you should not. Suppose you plan a vacation in August. Unfortunately it's not a good weather everywhere this time. For example, Perhentian islands has good weather in August, while it's a rainy season in Langkawi island same time. But everything reverts in February, - sun shines in Langkawi, and it rains in Perhentian islands.
Main indicators of climate for the traveler are rains, air temperature and water temperature. And again, Google will help us. Suppose you want to know when it is the rainy season in Langkawi. Open google.com and type:
Langkawi average rainfall
Explore the first few sites until you understand everything about rains in Langkawi. If it's hard for you to understand all these numbers, I may suggest the following criteria:
1. Up to 100 mm of rainfall per month
Very good, not rainy. This is the best time to travel.
2. 100-200 mm
It will be rainy, but not so bad in general. It's possible to travel this time.
3. 200-300 mm
It's too rainy. Try to avoid this period. But if you really want, and can't change dates of your vacation, you can go this time.
4. More than 300 mm of rainfall per month
Very bad. Most likely that it will be rain and only rain. Don't travel this period in any circumstances.
Same way use google.com to find information on air temperature and water temperature (put the name of a place you are interested in instead of Langkawi):
Langkawi average temperature
Langkawi average water temperature
Though usually everything is clear with temperature, I recommend always to check this parameter. For example, Mauritius is located in the tropics, and it always should be warm there. However, in reality, sea water is very cold there from July to October:
http://www.island-on-map.com/mauritius.html#weather
Mauritius: Water temperature, C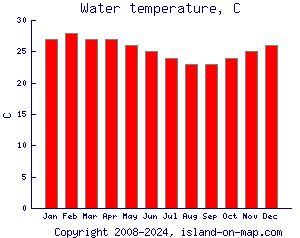 But Seychelles has warm sea water all year round, though Seychelles are located not far from Mauritius:
http://www.beach-on-map.com/anse-lazio.html#weather
Seychelles: Water temperature, C