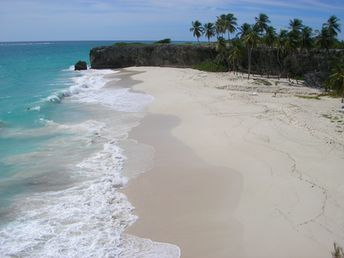 12 Best beaches in Barbados
Ultimate guide (December 2019)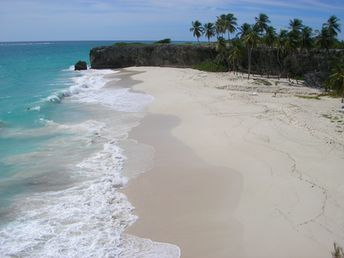 Carlisle Bay
- superb white sand beach near Bridgetown - the capital of of Barbados. Features smooth entry into the water and crowds of pass…
/ read more » / Sandy Lane
is a popular beach located just to the south of Holetown in Barbados. The beach is beautiful - with large trees, white sand and…
/ read more » / Brandons Beach
is a beach being the closest one to the cruise port of Barbados. This is a nice place, and surprisingly not crowded. Closer to …
/ read more » / Bathsheba
is a beach with stunning views of the wild ocean with huge rocks on the east of Barbados island. This is Atlantic coast, so the…
/ read more » / Heywoods
is a good beach on the west of the island of Barbados. Some parts of the shore looks perfect as a postcard. There's reasonable …
/ read more » / St. Lawrence Gap
(St. Lawrence Gap) is almost perfect tropical beach with palm trees (in its west end). In the eastern part there's no trees. It…
/ read more » / Rockley
(Accra) is a beach near Bridgetown on Barbados island. This is not very cozy place, but still it has excellent white sand and e…
/ read more » / Crane Bay
is the most overrated Barbados beach. It is usually referred as a pink sand beach, but it's not true. There's always lots of pe…
/ read more » / Mullins Bay
is a mediocre beach to the south of Speightstown (Speightstown) city. Noticeable for peculiar trees, which given the name for t…
/ read more » / Miami beach
(Enterprise beach) is an unremarkable beach on the south of the island of Barbados. Locals love it for easy car parking.
/ read more » / ✍
Feel free to ask any questions
& get free help from our travel community.
Any reviews or ideas are also appreciated:
Comments
[
2019-08-21
]
Please, consider Carlisle Bay or St. Lawrence Gap. See links above. All of these have white sand beach, as well as cafes, shops, etc.
[
2019-08-19
]
We would like to stay near a white sandy beach to sun bathe on and also be able to walk to do things, restaurants and grocery stores Where is the best location for this?
[
2017-08-15
]
It is possible to change USD to Barbados dollars, when you arrive to the island. Official rate is 1 Barbados $ = 0.5 USD, and in many cases it is possible to pay in USD.
For example, when I took a taxi from the airport, I've payed 50 USD, and got change in local currency at the official rate. Next day, I've changed more USD in the Bridgetown. I don't remember was it bank or just exchange office, but it was easy to find as the town is small & focused on tourists.
[
2017-08-15
]
When and where should i exchange my USD. Can i do that once im on the island or before we get there?