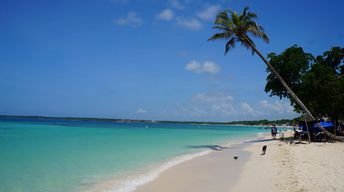 10 Best beaches in Colombia
Ultimate guide (November 2019)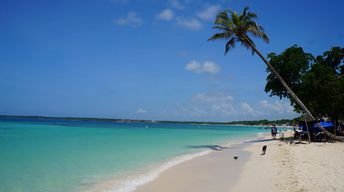 Cabo San Juan de Guia
is a beach in Tayrona National Park, Colombia. The place is beautiful with different attractions. There is a coast with white s…
/ read more » / Manzanillo
- the best beach in Colombia in the Caribbean island of Providencia. At high tide you can jump into the water using a bungee ti…
/ read more » / Johnny Cay
- beach on a sandbank, just north of the Colombian island of San Andres in the Caribbean. The place is beautiful, but there are…
/ read more » / La Piscina
is a beach in the Tayrona park (Colombia) being the only one suitable for swimming. Due to the home reef, there are no big wave…
/ read more » / Spratt Bight
- popular beach in the north of San Andres island. It's a city beach with all following disadvantages. However, this place is b…
/ read more » / Isla Mucura
is an island with the best beaches in the archipelago of Islas de San Bernardo, Colombia. You'll get a little piece of a tropic…
/ read more » / Palomino
is a surfer beach on the Caribbean coast of Colombia. Most of time there are strong waves, so it is possible to swim just near …
/ read more » / San Luis
- beach in the east of San Andres island. It's cozy here and not too many people. Many consider this beach to be the best in th…
/ read more » / Santa Veronica
is a popular beach to the southwest of Barranquilla in Colombia. This is not the most beautiful resort in the region, but it's …
/ read more » / ✍
Feel free to ask any questions
& get free help from our travel community.
Any reviews or ideas are also appreciated:
Comments
[
2015-06-10
]
As for Cartagena everything is very expensive. For example I rent a room in a 2-bedroom apartment for $270 per month. But it's not far from the Old Town.
[
2015-06-10
]
How much may cost room at Colombia coast on a monthly basis? Cartagena or something like that... Now everything seems to be very expensive :)
[
2015-04-03
]
Bogota old town is called La Candelaria. There's also cable road to Monserrate mountain with good view to the city.
[
2015-04-03
]
What to see in Bogota? I have about 10 hours in the airport.